"A Little Slice of Heaven"
Butterkäse
The first variety of cheese available for purchase was Butterkäse. It is a creamy, brick-style cheese great for snacking, melting on sandwiches and burgers, or for cooking. Makes amazing grilled cheese or macaroni and cheese. Pairs well with dry or semi-sweet wines.
White Cheddar Cheese
This was our second variety available for purchase. This is a fresh, mild tasting cheddar that has a wonderful flavor. An excellent snacking cheese that pairs well with apples.
Swiss Cheese
This traditional Old World style Swiss cheese has a sweet, nutty taste unlike any other. Known to attract even the "non Swiss cheese customers" with its amazing flavor. You just have to try it!

Gouda
A smooth cheese with a bit of a bite, this mild tastng cheese pairs excellently on top of crackers and gives your sandwhiches an extra zip!
Try some in your sald, stuffed in your pork chop, on top of your eggs or spread on fresh bread. Any way you use it, it will enhance the flavor with fresh taste!
Same great taste as our original recipe with a tomato and basil zip!
Blue Cheese

The great flavor is impressive to Blue cheese lovers - be sure to sample this one! Adds so much to your salad, burgers and wherever you like to put your Blue cheese.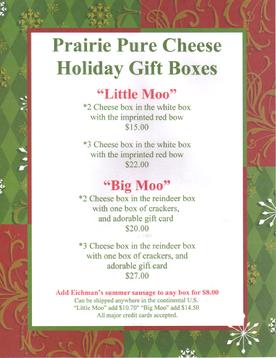 Make your selection below
| | |
| --- | --- |
| | "Little Moo" |
| | |
| --- | --- |
| | "Little Moo" |



"Big Moo"

"Big Moo"



"Big Moo"

"Big Moo"
Having problems placing your order? Call 785-393-8336 for questions or help.